Charter Information
Fishing Reports
Photo Gallery
Lake Hartwell
Striper Seasons
Home
December Fishing Forecast 2014
Report Date: November 25, 2014
Water Temperature: low 60s
Water Level: 6 feet below full pool

December is a top month for stripers and hybrids if you like catching big fish on small artificials and in shallow water. December water temperatures send the fish into a feeding frenzy. Fish will still eat herring through December. They are also easy targets with artificials. My favorite artificials are small flukes on small jig heads worked on light line. Some people do well with Alabama rigs made with small jigs.

December is also a top month for catching a big striper on a fly rod. Small clouser flies on sinking or intermediate fly line will catch lots of fish. Look for seagulls to lead you to the fish. Approach the fish as quietly as possible. The best days for schooling activity are overcast, calm days. On a bright sunny midday, look for fish 30 to 40 feet deep, close to the bottom. A jigging spoon jigged off the bottom will catch stripers, hybrids and bass. This action should last into January, when the water temperature gets below 48°. Then it is crappie season, as they eat all winter.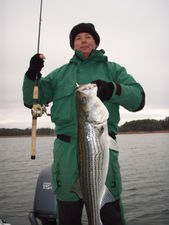 Mike Simmons from Maggie Valley N.C. with a nice December striper caught on a bucktail jig last year.

Capt. Preston Harden
706-255-5622
Lake Hartwell, GA


Back to Main Fishing Report Page
---
[ Charters || Reports || Photos || Lake Hartwell || Home ]
Bucktail Guide Service
Preston Harden
115 Snyder Dr.
Townsville, SC
Phone: 706-255-5622
Email: wprestonharden@gmail.com
Design & Hosting by CyberAngler