Charter Information
Fishing Reports
Photo Gallery
Lake Hartwell
Striper Seasons
Home
February Fishing Forecast for Lake Hartwell
Report Date: January 27, 2016
Water level: 4 feet above full pool
Water temperature: upper 50's

El Ni�o has made fishing tough so far this winter. The water has been warm, keeping most fish deep. The large amount of rain has made fishing tough with water levels at flood stage. February could be a great month for fishing on Hartwell. Usually by February the water temperature is much colder and most fish are inactive. The water temperature is closer to the early December average, as of mid-January.

Look for stripers, hybrids, and bass to be chasing Shad in the creeks and up the rivers. I like to throw small jig with flukes, bucktail jigs, and small flies. If I am marking fish in deeper water, I like to fish a drop shot with a fluke or a jigging spoon. Some people catch fish on Alabama rigs, but it is too much work for me. Umbrella rigs catch winter fish if you like to troll. If fishing live bait, sometimes smaller baits work better in cold water.

Crappie are a great option if the water gets cold. They move into major creeks and stage under docks and bridges, especially on bright sunny days. I look for them 15 to 30 feet deep, in the shade of the dock or bridge. I do not get out on people's docks, but I will get close and try to put my tiny jig in the shade of the dock. I use 1/32 oz. Jig on 4 pound test line. Crappie will eat no matter how cold the water gets. As we move into spring, crappie migrate further back into the creeks.

Always wear a life jacket if you are alone on the water. Hypothermia happens very fast especially when the water gets cold in the winter. Do you have a way to get back into your boat with lots of wet clothes on?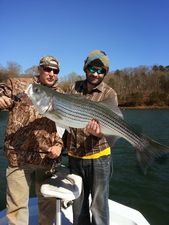 Picture is of a nice winter striper caught on a 1/8 oz. jig and a tiny zoom fluke.

Capt. Preston Harden
706-255-5622
Lake Hartwell, GA


Back to Main Fishing Report Page
---
[ Charters || Reports || Photos || Lake Hartwell || Home ]
Bucktail Guide Service
Preston Harden
115 Snyder Dr.
Townsville, SC
Phone: 706-255-5622
Email: [email protected]
Design & Hosting by CyberAngler