Charter Information
Fishing Reports
Photo Gallery
Lake Hartwell
Striper Seasons
Home
March Fishing Forecast for Lake Hartwell
Report Date: March 10, 2016
Water level: 2 feet below full pool
Water temperature: mid 40's

March is when I striper fish like I bass fish. I am also catching hybrids, largemouth, and Kentucky spots. The fish follow the bait as the bait seeks the warmest water. The fish and bait move to the shallowest water. A small fluke or other Shad imitating artificial will catch an array of fish. I fish afternoons in March because the water warms and the fishing gets better later in the day. Windblown pockets and points hold more fish than the Leeward banks. Look for fish up lake in the main rivers and creeks.

Bait fishing is tough in March unless you use medium shiners on light line. Some big fish will be caught pulling big gizzard shad in the backs of major creeks. Fishing with blue back Herring turns on in April, but March is tops for artificial.

Crappie fishing peaks in March as they move shallow in preparation to spawn. Work small crappie jigs around docks and bridges trying to keep the jig in the dark. Look for crappie to migrate further back into the major creeks as March progresses. I use 4 lb. test line and 1/32 oz. jig head with a small soft plastic.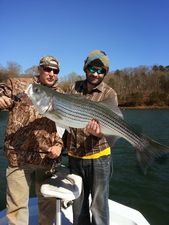 Picture is of a nice winter striper caught on a tiny zoom fluke.

Capt. Preston Harden
706-255-5622
Lake Hartwell, GA


Back to Main Fishing Report Page
---
[ Charters || Reports || Photos || Lake Hartwell || Home ]
Bucktail Guide Service
Preston Harden
115 Snyder Dr.
Townsville, SC
Phone: 706-255-5622
Email: [email protected]
Design & Hosting by CyberAngler