Charter Information
Fishing Reports
Photo Gallery
Lake Hartwell
Striper Seasons
Home
August Fishing Forecast
Report Date: July 26, 2016
Water level: 3 feet low
Water temperature: upper 80�s

August is big fish month. The month of August produces more big fish than any other month of the year for me. Most of these fish come from deep water. Deep water on Lake Hartwell is 60 to 120 feet deep. Live Herring do well at that depth in the lower Lake. There is no thermocline most years in the lower Lake and that's where most hybrids and stripers go. Electronics are important as you hunt for deep schools of fish. If you do not want to fish with live Herring, power reeling can be effective. Fish a jig or spoon vertically to deep fish. Fast retrieves through the school will get a reaction strike. I use a 5 inch paddle tail fluke on a 1 ounce jig head. I have seen the jumbo jigging spoons also catch deep fish.

The bass have moved to deep brush. The top water lures, such as a lucky Kraft Sammy will draw strikes in deeper water. Knowing where the brush is helps. Look around points and Shoals 15 to 25 feet deep. Lots of people put brush out and these are likely spots to find brush piles. If you do not get a strike from the top water plug cast over the brush pile, look for the fish on your graph in the brush. Fish vertically with a small natural presentation. A small drop shot can be deadly.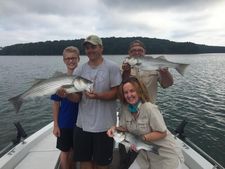 Above: Three generations enjoying a summer morning on Lake Hartwell.

Capt. Preston Harden
706-255-5622
Lake Hartwell, GA


Back to Main Fishing Report Page
---
[ Charters || Reports || Photos || Lake Hartwell || Home ]
Bucktail Guide Service
Preston Harden
115 Snyder Dr.
Townsville, SC
Phone: 706-255-5622
Email: [email protected]
Design & Hosting by CyberAngler