Charter Information
Fishing Reports
Photo Gallery
Lake Hartwell
Striper Seasons
Home
With Summer Heat, Fish are Deep
Report Date: June 25, 2013
Lake Hartwell, GA

Water Temperature is 79�
Water Level is 1.5 feet above Full Pool

Summer fishing is hot. June has been more like May. Fish have been shallow early, chasing bait fish in the surface. Locating fish has not been easy, as the fish have been scattered all over the lake and moving fast.

With warmer air temperatures, the water is warming fast and the fish are moving out of the creeks and upper rivers. Look for fish in 30 to 40 feet or deeper. A good graph is important for locating fish in deep water on the lower half of the lake. A blue back Herring will catch fish if you can find them. Drop the herring down to the level of the fish on a Carolina rig.

For those that like to fish artificials, these aggressive fish will eat a big 1 ounce jig head and a large swim bait. My favorite is a 5 inch Berkley power bait swim bait. Cast out and let it fall on a tight line. Give it a pop every few seconds. If you don't get hit on the fall, reel it back very fast. Later in the summer, as fish go to 60 to 100 feet,, drop the jig straight down to the fish marked on the graph. When they move toward the jig, reel fast and hold on!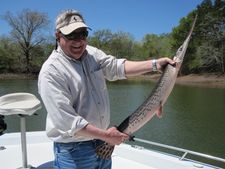 Capt. Preston Harden
Lake Hartwell, GA


Back to Main Fishing Report Page
---
[ Charters || Reports || Photos || Lake Hartwell || Home ]
Bucktail Guide Service
Preston Harden
115 Snyder Dr.
Townsville, SC
Phone: 706-255-5622
Email: [email protected]
Design & Hosting by CyberAngler