Charter Information
Fishing Reports
Photo Gallery
Lake Hartwell
Striper Seasons
Home
Lake Hartwell fishing Forecast for February 2014
Report Date: January 21, 2014
Water temperature is 44� to 48�
Water level is 2 feet above full pool

Fishing has been on fire for several months with stripers, hybrids and bass gorging on the huge schools of threadfin shad. But the water has reached the upper 40s and that will slow the bite. Most fish will go dormant with their metabolism slowing and very little feeding. Some people can still catch them trolling umbrella rigs in the river channels.

The crappie will eat no matter how cold the water gets. They will move into the major creeks in February. Look for them under docks and bridges in 15 to 25 feet of water. Small jigs and crappie minnows will work. When you catch one, there are more. Work the jig very slow. 1/32 oz. Jig heads and 4 pound test line get more bites than the heavier stuff. As the water warms, crappie move farther back in the creeks under shallower docks.

By late February, as the days get longer and warmer, the stripers and hybrids and bass will move shallow looking for warmer water. As the water climbs above 50�, the fish become active. The afternoon bite will be better than mornings as the water warms throughout the day. The fish move to windblown banks in the major creeks. This is the start of my favorite season, casting small jigs and flukes to the banks. If you like to cast artificials, this is the most consistent bite of the year.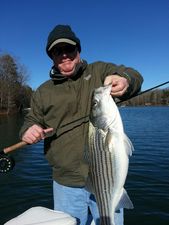 Pictured is Al Moore, of Atlanta GA, with one of many stripers caught recently. He caught it with a fly he made with a soft plastic fluke, lead eyes and some bucktail hackle.

Thanks Preston

Capt. Preston Harden
Lake Hartwell, GA


Back to Main Fishing Report Page
---
[ Charters || Reports || Photos || Lake Hartwell || Home ]
Bucktail Guide Service
Preston Harden
115 Snyder Dr.
Townsville, SC
Phone: 706-255-5622
Email: [email protected]
Design & Hosting by CyberAngler