Charter Information
Fishing Reports
Photo Gallery
Lake Hartwell
Striper Seasons
Home
Search Deep and South for Stripers and Hybrids
Report Date: June 25, 2014
Lake Hartwell fishing forecast for July

Water Level: Full Pool
Water Temperature: 81�

Stripers and hybrids have been eating herring on both down lines and free lines. As we go into July, I will go to down lines and put up the free lines. Fish have been at 30 to 40 feet deep. As we go into July, I will look for fish deeper. I have been fishing up Lake towards Clemson most of this year. I will be looking for the fish migrating south, down the rivers as the thermocline sets up. The fish will be suspended above the thermocline as they head south towards better water quality in the lower Lake.

A good graph is important this time of year to see the fish. By late July, most fish will be in the lower Lake near the dam. Keep a top water plug ready in case they come up and chase bait in the surface. If you don't like to fish with live bait, try power reeling with a big 1 ounce jig head and a 5 inch swim bait. When you mark fish on the graph, reel the swim bait through the fish at a fast speed.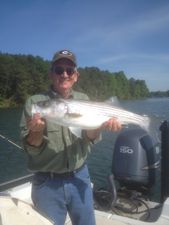 Pictured above is of Frank Johnson from Athens, GA, with a striper caught on a blueback herring.

Capt. Preston Harden
706-255-5622
Lake Hartwell, GA


Back to Main Fishing Report Page
---
[ Charters || Reports || Photos || Lake Hartwell || Home ]
Bucktail Guide Service
Preston Harden
115 Snyder Dr.
Townsville, SC
Phone: 706-255-5622
Email: [email protected]
Design & Hosting by CyberAngler