Charter Information
Fishing Reports
Photo Gallery
Lake Hartwell
Striper Seasons
Home
Fishing forecast for Lake Hartwell - October 2014
Report Date: October 1, 2014
Water Temperature is 77�
Water Level is 4 feet below full pool

October is the best month of the year for schooling fish. Big schools of hybrids and stripers can come up for long periods of time. I will have a lucky Kraft Sammy or gun fish in ghost minnow color tied on. I like a Sammy on calm days and a gun fish when the water gets choppy.

September has been easy fishing with big schools of stripers in the deep water of the lower Lake. Most of the better fish have been 70 the 90 feet deep. October brings them back shallower with cooler water. Schooling is not guaranteed, but somewhat predictable. Early mornings, late afternoons, and overcast calm days are better for schooling activity. A good pair of binoculars are a big help seeing the action from afar. Try to not run into the middle of the action with your outboard. Try to get up wind and drift into the action.

Hybrids and stripers are not the only fish moving shallower. Bass and crappie move back shallow and start to feed better. The Lake is quiet with few boats this time of year. The fish are shallow and active. The air is cool, but not cold. The leaves are gold and red. What else could you ask for?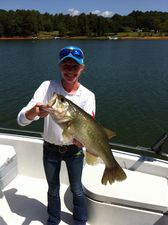 Picture is of Amanda Cattafi, 16 year old from Lavonia GA, with a nice largemouth bass caught on a lucky craft Sammy on 9-12-14.

Capt. Preston Harden
706-255-5622
Lake Hartwell, GA



Back to Main Fishing Report Page
---
[ Charters || Reports || Photos || Lake Hartwell || Home ]
Bucktail Guide Service
Preston Harden
115 Snyder Dr.
Townsville, SC
Phone: 706-255-5622
Email: [email protected]
Design & Hosting by CyberAngler