Charter Information
Fishing Reports
Photo Gallery
Lake Hartwell
Striper Seasons
Home
Lake Hartwell Fishing Report and June Forecast
Report Date: May 18, 2015
As of mid-April, Lake level is full and water temperature is in the mid-60s.

Lake Hartwell fishing has been real good this spring. The fish have been shallow since early March. We are still finding fish shallow, especially early mornings and late afternoons. The fish are spawned out and are grouping up and feeding heavily. Blue back herring will not be refused by hybrids, stripers or bass. I throw top water plugs around points and Shoals or anywhere I see fish chasing bait. My favorite top water baits is a lucky Kraft Sammy in ghost minnow.

The largemouth and spotted bass are everywhere. The spotted bass are easy to catch. They have been mixed in with hybrids and stripers in shallow water eating flukes on jig heads. They will also not pass up a herring free lined with no weight. May is usually the peak of spring fishing before the fish start to go deeper.

June Forecast

June is a month that I look forward to all year. The spawn is over and the fish are hungry. Blue back herring are the top bait. My favorite artificial for surface feeding is a lucky craft Sammy in ghost minnow color. Fish start to group up in large schools in June. They are migrating out of the creeks and down the rivers, heading towards the lower Lake. The thermocline forms in the creeks and pushes them down the rivers. Look for them above the thermocline. If you can find the schools of fish with your electronics, they will eat Herring with gusto. They will also eat a big swim bait on a jig head reeled through the school. If you see them chasing bait in the surface, have a top water bait or a large fluke, like a zoom super fluke in Pearl ready to throw where you see them on top.

Look for largemouth bass and Kentucky spotted bass around brush piles off the main points and humps near open water. If you know where the brush is, throw a top water first and then get on top of the brush and drop a worm around the brush piles. Look at a depth of 10 to 20 feet deep for the brush.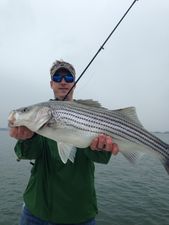 Picture is of Shane Hollman from Jefferson GA. with a nice spring striper caught on a 1/8 oz. jig and a tiny zoom fluke.

Capt. Preston Harden
706-255-5622
Lake Hartwell, GA


Back to Main Fishing Report Page
---
[ Charters || Reports || Photos || Lake Hartwell || Home ]
Bucktail Guide Service
Preston Harden
115 Snyder Dr.
Townsville, SC
Phone: 706-255-5622
Email: [email protected]
Design & Hosting by CyberAngler