Charter Information
Fishing Reports
Photo Gallery
Lake Hartwell
Striper Seasons
Home
October Fishing Forecast for Lake Hartwell
Report Date: October 1, 2015
As of mid-September the water temperature is in the low 80s and the water level is almost 4 feet below full pool.

By October, the water temperature has dropped and the fish are active like springtime without the crowds. Football and hunting have taken the crowds from the Lake. Fish have started to move shallow and are feeding more aggressively. Stripers and hybrids will school in the surface for long periods. This usually is in the lower Lake, but can be mid to upper Lake. Top water plugs work where surface activity has been seen and will draw aggressive strikes. Binoculars are important to see the action from a long distance. Seagulls will also give away the area where the action is. October is the best month to catch stripers on top water plugs. My favorite is a lucky Kraft Sammy in ghost minnow color. Use a landing net and pinch the barbs down on the hooks to avoid getting them in you.

Bass also move shallow and eat like it is spring. Crappie move shallow and are easy to catch especially under bridges and under docks where there are brush piles 10 to 20 feet deep. The fall colors and perfect air temperature are enough reason to be on the Lake, not to mention the awesome fishing.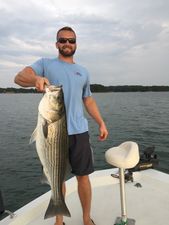 Picture is of Nate Sheriff from Seneca S.C. with a nice mid-August striper caught on a herring at 100 feet deep.

Capt. Preston Harden
706-255-5622
Lake Hartwell, GA


Back to Main Fishing Report Page
---
[ Charters || Reports || Photos || Lake Hartwell || Home ]
Bucktail Guide Service
Preston Harden
115 Snyder Dr.
Townsville, SC
Phone: 706-255-5622
Email: [email protected]
Design & Hosting by CyberAngler